'Socialist' Dating Sites*
Along with Socialist Passions (the site you are on now), the sites listed below all focus on connecting single socialists with other singles online. While there are many niche dating sites online, there are not that many focusing on connecting singles who are socialists. If you are a socialist and you're looking for a site where you might meet others who believe in Socialism, then Socialist Passions and the sites listed below seem like the best options for you.
AD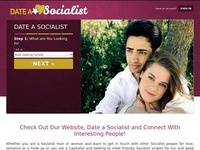 Date A Socialist
Date a Socialist and Connect With Interesting People!
It can be hard for true socialists to find compatible singles. Either people don't understand what socialism actually means or they have been indoctrinated by capitalist political party affiliations. If you are interested in finding smart, single socialism supporters, Date A Socialist could be perfect for you.

OKComrade Club
Meet Fellow Comrades!
Many people relate the term comrade with communism, but it actually dates back to the early days of the socialist movement. That being said, this particular site seems to be an idea that may or may not end up taking off. For now, it appears to be collecting information for when it launches. Why not bookmark it and check back every now and then? Who knows, it may go live one day and surprise everyone.
AD
*Sites listed on this page are a combination of ads, affiliate related Sites and general non-partnership related sites that match the theme of Socialist Passions.